EU Economic Assistance to Ukraine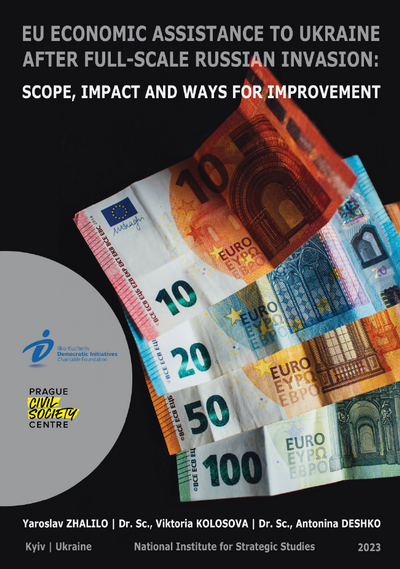 Yaroslav Zhalilo, Viktoria Kolosova, Antonina Deshko
Since the beginning of Russian aggression, the EU significantly increased its support to Ukraine, having mobilized macro-financial assistance, grant budget support, urgent assistance, direct non-budget aid responding to crisis, and humanitarian aid for the promotion of general economic, social and financial stability of Ukraine. Given the adopted decision of Ukraine's candidate to EU accession status, this assistance should be considered not only as the mean of operative support, but as the investment, pushing the structural changes.
Macro-financial assistance provision to Ukraine allowed to ensure the stable and full-pledged financing of primordial social and humanitarian expenditures of the state budget, contributed to the proper functioning of bodies of public administration at the beginning of full-scale war and their readjustment to wartime needs.
The general conditions, outlined in the Memoranda of Understanding, created the additional frames for moderating the financial policy of the Government. The appropriate role has been played by Ukraine's obligations to build anti-corruption mechanisms, envisaged by the Memoranda.
The loan agreement on granting to Ukraine the macro-financial assistance in the amount of EUR 18 bln will determine the mainstream in 2023. Meanwhile, the effectiveness of this assistance should be enforced by promoting effectiveness and transparency of budget spending and further engraving of anti-corruption capacity, better performance of budget planning and higher effectiveness of budget spending.
In the case of desired developments in the course of the war, in 2024 we should expect the significant increase of the share of targeted programs of budget and non-budget economic assistance to economic recovery processes. Strengthening the institutional capacity to obtain and effectively use the funds will allow to diversify the scope of assistance recipients, and to unload the budget system.
Enhancement of strategic approaches to the EU policy concerning Ukraine is an important complementary component of European support to Ukraine. Expanding resource capacity to provide economic assistance to Ukraine and strengthening the targeting of funds allocation can be enabled by Ukrainian actors' involvement into the actual and prospective European programs. In general, the EU economic assistance to Ukraine in 2023-2024 should play the decisive role in rapid EU integration of Ukraine.